The SMUS Thailand team is pleased to announce that two keynote speakers have been confirmed for the upcoming SMUS Conference 2024. The conference will be held at Chulalongkorn University's Faculty of Political Science (Bangkok, Thailand) from Tuesday, July 23rd to Monday, July 29th, 2024.
Keynote speakers: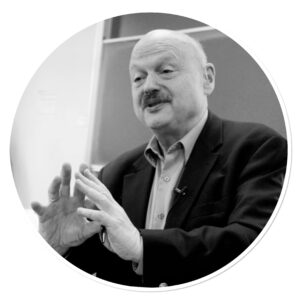 Michael Herzfeld
"Spatial Methods for City of Inherited Past"  (Tentative Title)
July 26, 2024 Keynotes
Michael Herzfeld is Professor Emeritus and Ernest E. Monrad Research Professor of the Social Science at the Department of Anthropology, Harvard University. He is specialized in urban ethnography, politics of urban history, urban heritage and social theory. He has been teaching urban ethnography at Harvard University and conducting researches in Thailand, Rome, Greece, and elsewhere.
Professor Herzfeld has involved through his works in urban activism in conserving cultural heritage of communities in the city. His contributions also reflect on the role of anthropologists in providing new insights for bureaucratic officers, planners, and urban designers through fieldwork and training to think differently about urban migration, housing, and the city's justice and sustainability.
With his expertise and experience in urban studies, Professor Herzfeld will provide an insight into spatial methods for urban sustainability, engaging with the issues of politics of urban heritage, historical sites and community, and past memory of urban in the present day.
---

AbdouMaliq Simone
"Spatial Methods for City under Precarious Present"  (Tentative Title)
July 27, 2024 Keynote
AbdouMaliq Simone is Senior Professorial Fellow at the Urban Institute, University of Sheffield and co-director of the Beyond Inhabitation Lab, Polytechnic University of Turin.
He works on issues of spatial composition in extended urban regions, the production of everyday life for urban majorities in the Global South, infrastructural imaginaries, collective affect, global blackness, and histories of the present for Muslim working classes. He is also a research associate at the Max Planck Institute for the Study of Religious and Ethnic Diversity, visiting professor at the African Centre for Cities, University of Cape Town, research associate with the Rujak Center for Urban Studies in Jakarta, and research fellow at the University of Tarumanagara.
For three decades Simone has worked with practices of social interchange, technical arrangements, local economy, and the constitution of power relations that affect how heterogeneous African and Southeast Asian cities are lived. He has worked on remaking municipal systems, training local government personnel, designing collaborative partnerships among technicians, residents, artists, and politicians.
---
For more information, please visit https://gcsmus.org/conferences/thailand/keynote/